Core Walking Week in Cremolino
Core Walking Week in Cremolino Italy - Walking, Yoga and Therapeutics with Jonathan FitzGordon
August 29 – September 4, 2020
Price is €1700 per person 6 nights/Full Board (based on double occupancy) - Price €2000 per person (for single room)
The Program includes:
- Daily Core Walking sessions Training with Jonathan!
-Three meals each day - fresh, organic and locally-sourced;
- Wine Tour of Casa Wallace Cellar with wine tasting;
- Casa Wallace provides all Yoga accessories: yoga mat, cushions, belts, blocks, and blankets;
… and all the Casa Wallace comforts : private bathroom per each double room, organic linens, towels, shampoos, and hand-held hairdryers.
Retreat Language: English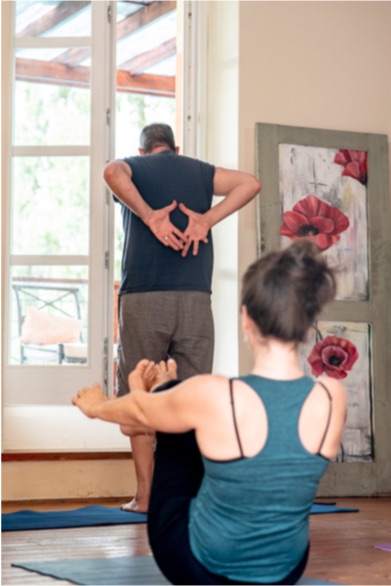 Changing your walk and posture can change your life. Jonathan Fitz Gordon, the creator of the Core Walking program, is back for the third year with his 6-night all-inclusive Core Walking retreat. It's for people who suffer chronic pain like spinal stenosis, lower back pain, muscle tension headaches, sciatica, Psoas pain and much more. He'll take participants through exercises proven to alleviate their suffering. We all want to age gracefully, and without pain, Jonathan will show you how. His daily sessions start with a nice walk and include exercises and anatomy with theory and practice during morning and afternoon workshops. Each participant will receive so much individual attention to increasing awareness of movement patterns.
The Daily Schedule:
Saturday August 29th
3:00pm. Afternoon practice
8:00pm. Evening Meet, Greet & Dinner
Sunday to Thursday
7:00am Morning Hike
8:00 am Meditation
8:30 am Breakfast
10:00 am – 12:00 pm Morning Practice
12:30 pm Lunch
3:00 – 6:00pm Afternoon Practice
7:30 pm Dinner
Friday September 4th, 2020
7:00 am Morning Hike
8:00 am Meditation
8:30 am Breakfast
9:30 – 11:00 am Morning Practice.
About Jonathan
Jonathan has been practicing yoga since the mid-90s and is the creator of the Core Walking program, developed in 2005. His Core Walking program has helped thousands of people around the world alleviate their chronic and acute pain. Many of his clients are people who have tried conventional methods to no avail. There is so much logic to his beliefs and way of teaching that if everyone followed the Core Walking program, we would see all age gracefully.
Testimonial:
It's not often you encounter someone who had the ability to mentally engage you for hours and days at a time. Jonathan strikes a perfect balance in his teaching style, combining a passion for his subject and an encyclopedic knowledge of the human body practicing yoga with Jonathan made me feel the best I've felt in a long time. If I hold on to a tenth of what I learned in a week at Casa Wallace I'll be better off for life. - Mary Wycherley
You'll have three organic and locally sourced meals each day including vegetables from the garden, plus a guided visit to the wine cellar with an enjoyable wine tasting. All rooms have private bathrooms, organic linens, towels, shampoos and hand-held hairdryers. Single rooms can be arranged.
Price €1800 for the all-inclusive retreat is based on double occupancy..
For more information: https://corewalking.com/italy-retreat-v2/